Ward predictions sorted by council area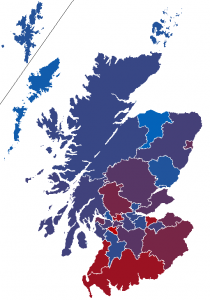 Yesterday's prediction of ward results in the independence referendum was sorted by the percentage of Yes votes.
However, it might be instructive to list the same figures by council area, and to calculate the results also for the councils (given that Yes Scotland is organised by council area).
I've also created a map of the council areas to illustrate the prediction. Pure blue is 60% Yes, and pure red is 60% No.
I would have loved to create a ward map, too, but I haven't been able to find a suitable ward map of Scotland, and I don't have time to create one. If somebody has plenty of time, it should be quite easy to do, however, given that ward maps are generally easy to find for each council area.
Anyway, here are the predicted results (read yesterday's blog post for more information about the methodology):
| Council area | Ward | Yes | No |
| --- | --- | --- | --- |
| Aberdeen | | 49% | 51% |
| | Airyhall / Broomhill / Garthdee | 41% | 59% |
| | Bridge of Don | 52% | 48% |
| | Dyce / Bucksburn / Danestone | 53% | 47% |
| | George St / Harbour | 54% | 46% |
| | Hazlehead / Ashley / Queens Cross | 37% | 63% |
| | Hilton / Stockethill | 53% | 47% |
| | Kincorth / Loirston | 53% | 47% |
| | Kingswells / Sheddocksley | 51% | 49% |
| | Lower Deeside | 44% | 56% |
| | Midstocket / Rosemount | 43% | 57% |
| | Northfield | 62% | 38% |
| | Tillydrone / Seaton / Old Aberdeen | 55% | 45% |
| | Torry / Ferryhill | 51% | 49% |
| Aberdeenshire | | 53% | 47% |
| | Aboyne, Upper Deeside and Donside | 38% | 62% |
| | Banchory and Mid Deeside | 44% | 56% |
| | Banff and District | 59% | 41% |
| | Central Buchan | 58% | 42% |
| | East Garioch | 48% | 52% |
| | Ellon and District | 54% | 46% |
| | Fraserburgh and District | 71% | 29% |
| | Huntly, Strathbogie and Howe of Alford | 46% | 54% |
| | Inverurie and District | 50% | 50% |
| | Mearns | 49% | 51% |
| | Mid Formartine | 48% | 52% |
| | North Kincardine | 48% | 52% |
| | Peterhead North and Rattray | 68% | 32% |
| | Peterhead South and Cruden | 70% | 30% |
| | Stonehaven and Lower Deeside | 42% | 58% |
| | Troup | 61% | 39% |
| | Turriff and District | 55% | 45% |
| | West Garioch | 50% | 50% |
| | Westhill and District | 47% | 53% |
| Angus | | 57% | 43% |
| | Arbroath East and Lunan | 59% | 41% |
| | Arbroath West and Letham | 53% | 47% |
| | Brechin and Edzell | 62% | 38% |
| | Carnoustie and District | 57% | 43% |
| | Forfar and District | 59% | 41% |
| | Kirriemuir and Dean | 46% | 54% |
| | Monifieth and Sidlaw | 58% | 42% |
| | Montrose and District | 58% | 42% |
| Argyll and Bute | | 53% | 47% |
| | Cowal | 58% | 42% |
| | Dunoon | 57% | 43% |
| | Helensburgh Central | 45% | 55% |
| | Helensburgh and Lomond South | 46% | 54% |
| | Isle of Bute | 65% | 35% |
| | Kintyre and the Islands | 49% | 51% |
| | Lomond North | 54% | 46% |
| | Mid Argyll | 53% | 47% |
| | Oban North and Lorn | 57% | 43% |
| | Oban South and the Isles | 59% | 41% |
| | South Kintyre | 39% | 61% |
| Clackmannanshire | | 55% | 45% |
| | Clackmannanshire Central | 54% | 46% |
| | Clackmannanshire East | 46% | 54% |
| | Clackmannanshire North | 61% | 39% |
| | Clackmannanshire South | 58% | 42% |
| | Clackmannanshire West | 55% | 45% |
| Dumfries and Galloway | | 43% | 57% |
| | Abbey | 39% | 61% |
| | Annandale East and Eskdale | 36% | 64% |
| | Annandale North | 42% | 58% |
| | Annandale South | 41% | 59% |
| | Castle Douglas and Glenkens | 45% | 55% |
| | Dee | 46% | 54% |
| | Lochar | 41% | 59% |
| | Mid Galloway | 50% | 50% |
| | Mid and Upper Nithsdale | 41% | 59% |
| | Nith | 42% | 58% |
| | North West Dumfries | 42% | 58% |
| | Stranraer and North Rhins | 45% | 55% |
| | Wigtown West | 60% | 40% |
| Dundee | | 56% | 44% |
| | Coldside | 56% | 44% |
| | East End | 61% | 39% |
| | Lochee | 60% | 40% |
| | Maryfield | 56% | 44% |
| | North East | 65% | 35% |
| | Strathmartine | 58% | 42% |
| | The Ferry | 45% | 55% |
| | West End | 52% | 48% |
| East Ayrshire | | 55% | 45% |
| | Annick | 51% | 49% |
| | Ballochmyle | 52% | 48% |
| | Cumnock and New Cumnock | 50% | 50% |
| | Doon Valley | 52% | 48% |
| | Irvine Valley | 55% | 45% |
| | Kilmarnock East and Hurlford | 56% | 44% |
| | Kilmarnock North | 62% | 38% |
| | Kilmarnock South | 58% | 42% |
| | Kilmarnock West and Crosshouse | 58% | 42% |
| East Dunbartonshire | | 44% | 56% |
| | Bearsden North | 41% | 59% |
| | Bearsden South | 43% | 57% |
| | Bishopbriggs North and Torrance | 40% | 60% |
| | Bishopbriggs South | 44% | 56% |
| | Campsie and Kirkintilloch North | 50% | 50% |
| | Kirkintilloch East and Twechar | 50% | 50% |
| | Lenzie and Kirkintilloch South | 39% | 61% |
| | Milngavie | 45% | 55% |
| East Lothian | | 49% | 51% |
| | Dunbar and East Linton | 48% | 52% |
| | Fa'side | 51% | 49% |
| | Haddington and Lammermuir | 47% | 53% |
| | Musselburgh East and Carberry | 53% | 47% |
| | Musselburgh West | 51% | 49% |
| | North Berwick Coastal | 44% | 56% |
| | Preston / Seton / Gosford | 48% | 52% |
| East Renfrewshire | | 40% | 60% |
| | Barrhead | 51% | 49% |
| | Busby, Clarkston and Eaglesham | 37% | 63% |
| | Giffnock and Thornliebank | 40% | 60% |
| | Neilston, Uplawmoor and Newton Mearns North | 42% | 58% |
| | Netherlee, Stamperland and Williamwood | 41% | 59% |
| | Newton Mearns South | 30% | 70% |
| Edinburgh | | 43% | 57% |
| | Almond | 41% | 59% |
| | City Centre | 46% | 54% |
| | Colinton / Fairmilehead | 32% | 68% |
| | Corstorphine / Murrayfield | 37% | 63% |
| | Craigentinny / Duddingston | 48% | 52% |
| | Drum Brae / Gyle | 44% | 56% |
| | Forth | 44% | 56% |
| | Fountainbridge / Craiglockhart | 43% | 57% |
| | Inverleith | 40% | 60% |
| | Leith Walk | 49% | 51% |
| | Leith | 50% | 50% |
| | Liberton / Gilmerton | 47% | 53% |
| | Meadows / Morningside | 38% | 62% |
| | Pentland Hills | 37% | 63% |
| | Portobello / Craigmillar | 58% | 42% |
| | Sighthill / Gorgie | 51% | 49% |
| | Southside / Newington | 39% | 61% |
| Falkirk | | 54% | 46% |
| | Bo'ness and Blackness | 59% | 41% |
| | Bonnybridge and Larbert | 58% | 42% |
| | Carse, Kinnaird and Tryst | 55% | 45% |
| | Denny and Banknock | 60% | 40% |
| | Falkirk North | 56% | 44% |
| | Falkirk South | 49% | 51% |
| | Grangemouth | 54% | 46% |
| | Lower Braes | 46% | 54% |
| | Upper Braes | 51% | 49% |
| Fife | | 51% | 49% |
| | Buckhaven, Methil and Wemyss Villages | 54% | 46% |
| | Burntisland, Kinghorn and Western Kirkcaldy | 54% | 46% |
| | Cowdenbeath | 51% | 49% |
| | Cupar | 46% | 54% |
| | Dunfermline Central | 42% | 58% |
| | Dunfermline North | 51% | 49% |
| | Dunfermline South | 49% | 51% |
| | East Neuk and Landward | 42% | 58% |
| | Glenrothes Central and Thornton | 61% | 39% |
| | Glenrothes North, Leslie and Markinch | 62% | 38% |
| | Glenrothes West and Kinglassie | 61% | 39% |
| | Howe of Fife and Tay Coast | 46% | 54% |
| | Inverkeithing and Dalgety Bay | 48% | 52% |
| | Kirkcaldy Central | 52% | 48% |
| | Kirkcaldy East | 54% | 46% |
| | Kirkcaldy North | 51% | 49% |
| | Leven, Kennoway and Largo | 51% | 49% |
| | Lochgelly and Cardenden | 51% | 49% |
| | Rosyth | 52% | 48% |
| | St Andrews | 43% | 57% |
| | Tay Bridgehead | 45% | 55% |
| | The Lochs | 52% | 48% |
| | West Fife and Coastal Villages | 49% | 51% |
| Glasgow | | 51% | 49% |
| | Anderston / City | 51% | 49% |
| | Baillieston | 54% | 46% |
| | Calton | 46% | 54% |
| | Canal | 54% | 46% |
| | Craigton | 53% | 47% |
| | Drumchapel / Anniesland | 49% | 51% |
| | East Centre | 47% | 53% |
| | Garscadden / Scotstounhill | 51% | 49% |
| | Govan | 48% | 52% |
| | Greater Pollok | 55% | 45% |
| | Hillhead | 52% | 48% |
| | Langside | 50% | 50% |
| | Linn | 51% | 49% |
| | Maryhill / Kelvin | 55% | 45% |
| | Newlands / Auldburn | 50% | 50% |
| | North East | 50% | 50% |
| | Partick West | 46% | 54% |
| | Pollokshields | 48% | 52% |
| | Shettleston | 52% | 48% |
| | Southside Central | 54% | 46% |
| | Springburn | 55% | 45% |
| Highland | | 54% | 46% |
| | Aird and Loch Ness | 53% | 47% |
| | Badenoch and Strathspey | 54% | 46% |
| | Black Isle | 52% | 48% |
| | Caol and Mallaig | 53% | 47% |
| | Cromarty Firth | 59% | 41% |
| | Culloden and Ardersier | 57% | 43% |
| | Dingwall and Seaforth | 55% | 45% |
| | East Sutherland and Edderton | 48% | 52% |
| | Eilean a' Cheo | 54% | 46% |
| | Fort William and Ardnamurchan | 52% | 48% |
| | Inverness Central | 54% | 46% |
| | Inverness Millburn | 52% | 48% |
| | Inverness Ness-Side | 51% | 49% |
| | Inverness South | 55% | 45% |
| | Inverness West | 55% | 45% |
| | Landward Caithness | 51% | 49% |
| | Nairn | 59% | 41% |
| | North, West and Central Sutherland | 56% | 44% |
| | Tain and Easter Ross | 56% | 44% |
| | Thurso | 54% | 46% |
| | Wester Ross, Strathpeffer and Lochalsh | 54% | 46% |
| | Wick | 57% | 43% |
| Inverclyde | | 49% | 51% |
| | Inverclyde East Central | 50% | 50% |
| | Inverclyde East | 45% | 55% |
| | Inverclyde North | 48% | 52% |
| | Inverclyde South West | 52% | 48% |
| | Inverclyde South | 50% | 50% |
| | Inverclyde West | 49% | 51% |
| Midlothian | | 53% | 47% |
| | Bonnyrigg | 53% | 47% |
| | Dalkeith | 52% | 48% |
| | Midlothian East | 52% | 48% |
| | Midlothian South | 54% | 46% |
| | Midlothian West | 55% | 45% |
| | Penicuik | 52% | 48% |
| Moray | | 60% | 40% |
| | Buckie | 60% | 40% |
| | Elgin City North | 59% | 41% |
| | Elgin City South | 56% | 44% |
| | Fochabers Lhanbryde | 55% | 45% |
| | Forres | 56% | 44% |
| | Heldon and Laich | 62% | 38% |
| | Keith and Cullen | 64% | 36% |
| | Speyside Glenlivet | 65% | 35% |
| Na h-Eileanan an lar | | 58% | 42% |
| | An Taobh Siar agus Nis | 56% | 44% |
| | Barraigh, Bhatarsaigh, Eirisgeigh agus Uibhist a Deas | 70% | 30% |
| | Beinn na Foghla agus Uibhist a Tuath | 50% | 50% |
| | Loch a Tuath | 61% | 39% |
| | Na Hearadh agus Ceann a Deas nan Loch | 59% | 41% |
| | Sgire Uige agus Ceann a Tuath nan Loch | 60% | 40% |
| | Sgire an Rubha | 55% | 45% |
| | Steornabhagh a Deas | 56% | 44% |
| | Steornabhagh a Tuath | 56% | 44% |
| North Ayrshire | | 53% | 47% |
| | Ardrossan and Arran | 56% | 44% |
| | Dalry and West Kilbride | 50% | 50% |
| | Irvine East | 54% | 46% |
| | Irvine West | 52% | 48% |
| | Kilbirnie and Beith | 52% | 48% |
| | Kilwinning | 48% | 52% |
| | North Coast and Cumbraes | 54% | 46% |
| | Saltcoats and Stevenston | 58% | 42% |
| North Lanarkshire | | 53% | 47% |
| | Abronhill, Kildrum and The Village | 63% | 37% |
| | Airdrie Central | 58% | 42% |
| | Airdrie North | 59% | 41% |
| | Airdrie South | 56% | 44% |
| | Bellshill | 54% | 46% |
| | Coatbridge North and Glenboig | 52% | 48% |
| | Coatbridge South | 53% | 47% |
| | Coatbridge West | 50% | 50% |
| | Cumbernauld North | 53% | 47% |
| | Cumbernauld South | 59% | 41% |
| | Fortissat | 55% | 45% |
| | Kilsyth | 50% | 50% |
| | Mossend and Holytown | 50% | 50% |
| | Motherwell North | 47% | 53% |
| | Motherwell South East and Ravenscraig | 54% | 46% |
| | Motherwell West | 51% | 49% |
| | Murdostoun | 46% | 54% |
| | Strathkelvin | 48% | 52% |
| | Thorniewood | 48% | 52% |
| | Wishaw | 50% | 50% |
| Orkney Islands | | 56% | 44% |
| | East Mainland, South Ronaldsay and Burray | 57% | 43% |
| | Kirkwall East | 55% | 45% |
| | Kirkwall West and Orphir | 59% | 41% |
| | North Isles | 57% | 43% |
| | Stromness and South Isles | 57% | 43% |
| | West Mainland | 56% | 44% |
| Perth and Kinross | | 51% | 49% |
| | Almond and Earn | 46% | 54% |
| | Blairgowrie and Glens | 58% | 42% |
| | Carse of Gowrie | 61% | 39% |
| | Highland | 60% | 40% |
| | Kinross-shire | 46% | 54% |
| | Perth City Centre | 52% | 48% |
| | Perth City North | 58% | 42% |
| | Perth City South | 43% | 57% |
| | Strathallan | 44% | 56% |
| | Strathearn | 46% | 54% |
| | Strathmore | 49% | 51% |
| | Strathtay | 52% | 48% |
| Renfrewshire | | 52% | 48% |
| | Bishopton, Bridge of Weir and Langbank | 45% | 55% |
| | Erskine and Inchinnan | 51% | 49% |
| | Houston, Crosslee and Linwood | 50% | 50% |
| | Johnstone North, Kilbarchan and Lochwinnoch | 58% | 42% |
| | Johnstone South, Elderslie and Howwood | 52% | 48% |
| | Paisley East and Ralston | 49% | 51% |
| | Paisley North West | 49% | 51% |
| | Paisley South West | 53% | 47% |
| | Paisley South | 54% | 46% |
| | Renfrew North | 60% | 40% |
| | Renfrew South and Gallowhill | 57% | 43% |
| Scottish Borders | | 47% | 53% |
| | East Berwickshire | 47% | 53% |
| | Galashiels and District | 56% | 44% |
| | Hawick and Denholm | 47% | 53% |
| | Hawick and Hermitage | 49% | 51% |
| | Jedburgh and District | 42% | 58% |
| | Kelso and District | 43% | 57% |
| | Leaderdale and Melrose | 53% | 47% |
| | Mid Berwickshire | 45% | 55% |
| | Selkirkshire | 47% | 53% |
| | Tweeddale East | 45% | 55% |
| | Tweeddale West | 46% | 54% |
| Shetland Islands | | 56% | 44% |
| | Lerwick North | 58% | 42% |
| | Lerwick South | 54% | 46% |
| | North Isles | 57% | 43% |
| | Shetland Central | 58% | 42% |
| | Shetland North | 57% | 43% |
| | Shetland South | 53% | 47% |
| | Shetland West | 57% | 43% |
| South Ayrshire | | 43% | 57% |
| | Ayr East | 39% | 61% |
| | Ayr North | 49% | 51% |
| | Ayr West | 38% | 62% |
| | Girvan and South Carrick | 47% | 53% |
| | Kyle | 44% | 56% |
| | Maybole, North Carrick and Coylton | 47% | 53% |
| | Prestwick | 43% | 57% |
| | Troon | 44% | 56% |
| South Lanarkshire | | 51% | 49% |
| | Avondale and Stonehouse | 49% | 51% |
| | Blantyre | 53% | 47% |
| | Bothwell and Uddingston | 42% | 58% |
| | Cambuslang East | 49% | 51% |
| | Cambuslang West | 46% | 54% |
| | Clydesdale East | 44% | 56% |
| | Clydesdale North | 45% | 55% |
| | Clydesdale South | 50% | 50% |
| | Clydesdale West | 55% | 45% |
| | East Kilbride Central North | 55% | 45% |
| | East Kilbride Central South | 54% | 46% |
| | East Kilbride East | 55% | 45% |
| | East Kilbride South | 62% | 38% |
| | East Kilbride West | 51% | 49% |
| | Hamilton North and East | 49% | 51% |
| | Hamilton South | 47% | 53% |
| | Hamilton West and Earnock | 53% | 47% |
| | Larkhall | 53% | 47% |
| | Rutherglen Central and North | 50% | 50% |
| | Rutherglen South | 46% | 54% |
| Stirling | | 47% | 53% |
| | Bannockburn | 53% | 47% |
| | Castle | 53% | 47% |
| | Dunblane and Bridge of Allan | 46% | 54% |
| | Forth and Endrick | 40% | 60% |
| | Stirling East | 50% | 50% |
| | Stirling West | 45% | 55% |
| | Trossachs and Teith | 48% | 52% |
| West Dunbartonshire | | 56% | 44% |
| | Clydebank Central | 57% | 43% |
| | Clydebank Waterfront | 57% | 43% |
| | Dumbarton | 55% | 45% |
| | Kilpatrick | 53% | 47% |
| | Leven | 58% | 42% |
| | Lomond | 59% | 41% |
| West Lothian | | 55% | 45% |
| | Armadale and Blackridge | 59% | 41% |
| | Bathgate | 56% | 44% |
| | Broxburn, Uphall and Winchburgh | 54% | 46% |
| | East Livingston and East Calder | 55% | 45% |
| | Fauldhouse and the Breich Valley | 51% | 49% |
| | Linlithgow | 50% | 50% |
| | Livingston North | 58% | 42% |
| | Livingston South | 57% | 43% |
| | Whitburn and Blackburn | 53% | 47% |