Indyref postmortem II: We need to talk about Yes Scotland
I think it's quite likely the next independence referendum will happen sooner rather than later, so it's important to have a look at what we could have done better, not in order to point fingers at anybody, but simply to make sure that we win next time. This is the second of several indyref postmortems.
During the independence campaign, lots of people were privately girning about Yes Scotland, but most of it remained private out of fear that any criticism would be used against us. However, Yes Scotland — or rather, the headquarters on Hope Street in Glasgow — made many mistakes, and we need to learn from them before the next referendum.
My main criticisms are listed below.
Failure to liaise with local groups
Yes Scotland did play a role in setting up many of the local groups. However, once they had been set up, they were to a large extent ignored, except for endless requests to raise money for Yes Scotland.
One particular problem was that it led to uneven campaigning — if there were many volunteers in one area, they could undertake lots of activities such as fundraising and canvassing that would help later in the campaign, whereas other areas were starved of resources. Nobody seemed to look at the "empty" areas and try to help them grow until they could campaign on their own.
It could also get quite depressing being a Yes campaigner in a strong No area — on Facebook you could see how much fun campaigners in Yes areas were having, but the strong focus on local campaigning meant you had to knock on the doors in your No-leaning area alone. I often wished we could have swapped volunteers with a Yes area for a day!
Perhaps this was all caused by the lack of community organisers, as pointed out by Alistair Davidson last July:
Yes HQ made a serious mistake in not hiring any community organisers. An organiser's job is to put themselves at the service of a movement (the professional jargon calls organisers "staff" and ordinary movement members "leaders"), to develop and maintain relationships with people who take on leading roles, and to encourage new activists to become involved in leadership and planning. This kind of organic connection to a movement helps to smooth over clashes with the careful plans of the political strategists.
Instead of actually liaising with local groups, Yes Scotland seemed to see it as their role to provide ads, literature, merchandise and email updates.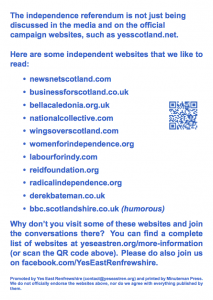 Another problem with not engaging sufficiently with local groups was seen when HQ called me in June '14 to tell us (i.e., Yes East Renfrewshire) to pulp 20,000 newly printed leaflets because they contained a link to Wings over Scotland. We had already distributed the first batch, and before we produced it, I had talked to somebody from HQ who waffled and didn't give me a straight answer. (They claimed later they had said they didn't want Wings included — but if so they did it so subtly that I didn't understand it — all I took from the conversation was that it wasn't their job to tell local groups what to do or not do.) However, because of a potential media story about a leaflet produced by Yes Leith, they wanted us to pull ours, too. Eventually we produced 20,000 more leaflets without Wings, which we then distributed before distributing the old leaflets once the media story had gone away, in spite of what HQ had said. I imagine a community organiser would have been more closely involved in the design and contents of local leaflets so that the issue wouldn't have arisen.
Team-building
Yes Scotland seemed to think that all the local groups should do was fundraising and canvassing. As soon as people signed up, they were typically told to go and canvas rather than being invited to a social event to make them feel welcome. I think we lost many potential volunteers in this way, especially in the early days of the campaign.
As I argued on this blog in July '13, there was a huge need to motivate and encourage volunteers, and this almost only happened online, and not by HQ, who instead told us to "step away from your keyboards and talk to people!". Robin McAlpine expressed this very well a year later:
[Wings over Scotland] has lifted our spirits throughout the campaign. When we wake up in the morning and Yes Scotland isn't in the papers (why?) and the SNP is being timid and talking like an accountant, it is often Wings that is the primary source of commentary that doesn't seem always to accept the premise set by the mainstream media as the only possible frame for discussing independence. It makes it OK to be both angry and excited while becoming informed at the same time.
It often felt like Yes Scotland had no idea how to deal with their campaigners. As a parent, I often felt they used negative parenting techniques, ignoring the volunteers for too long and then suddenly barking commands at us ("Pulp that leaflet! Don't participate in the BBC Bias demo! Don't read Wings!"), instead of using positive techniques, such as engaging proactively. The problem with negative parenting is that eventually the sproglets get fed up and start ignoring you or — worse — start acting against you. Yes Scotland were actually quite lucky that all volunteers felt so strongly about the goal — Scottish independence — that nobody wanted to rock the boat during the campaign.
In addition to community organisers, some internal web forums might have been useful, as well as a yearly Yes conference for lead volunteers.
Yes Scotland the company
Other people have already pointed out that Yes Scotland initially seemed to waste a lot of money by hiring directors used to working in big corporate positions.
As a result, it often felt like they constantly felt cash-strapped but short of hands. However, many people who participated in the campaign had more time than money, and to me it just didn't seem sensible to beg volunteers for money in order to hire people to do the jobs that the volunteers would have done for free if they had been asked. The number of emails asking for financial contributions were endless, but I don't think I received a single one asking for help (apart from reminders to go canvassing).
Would HQ in their heart of hearts have been happier with a small army of paid canvassers like Better Together's, rather than having critical and engaged activists with their own dreams, hopes and campaigning ideas? At an event for lead volunteers in Stirling in June '14, a representative for Yes Scotland for instance told people their job online was to regurgitate the daily messages sent from HQ so that the campaign theme of the day was the one decided in Hope Street, which of course was a pointless appeal at that point in the campaign.
In fact, Yes Scotland often seemed to think like spin doctors, for instance preferring to arrange photo-ops for the media with hand-picked volunteers, while talking down or ignoring the actual grassroots events organised on Facebook.
The database
One huge problem was Yes Scotland's database. They were clearly so keen to get it up and running quickly that they installed a version of NationBuilder without testing properly that it could cope with Scottish addresses.
The result was that we lost many volunteers. The system couldn't assign volunteers to the right groups (partially because it didn't register the address of many volunteers, only their email address, I believe), so when we tried to use their system to email everybody in our area, we didn't reach many people. My dear wife at first received the emails from Glasgow, not from East Renfrewshire, and later she didn't receive any local emails, only fundraising messages from HQ.
I understand they were keen to launch before Better Together, but they would have been better off with a simple one-table MySQL database and a simple PHP website (I could have made this for free if they had asked) until they had had time to test the real system sufficiently.
It would also have been good if there had been a decent canvassing app (or a mobile-friendly website) that could have been used when you sent people out to knock doors. Yes, eventually there was an app, but it arrived late in the day and its functionality was limited.
Conclusion
Yes Scotland wasn't given an easy task, of course, being tasked with combining the campaigning strength of the SNP with the varied skills exhibited by smaller groups and inexperienced first-time volunteers. One might argue that the laissez-faire attitude adopted towards local groups in many instances actually worked well and that a more active HQ could have demoralised local campaigners much more than Yes Scotland actually did.
However, many of highlights of the campaign that people instinctively associate with Yes Scotland were actually organised independently, such as the wonderful independence marches, the flashmobs and the gatherings on Glasgow's Independence (George) Square, and it often felt like Yes Scotland weren't always too happy about not being in control of these.
Hopefully the next incarnation of Yes Scotland will learn from the mistakes made, turning the coming Yes campaign into a truly unstoppable force.