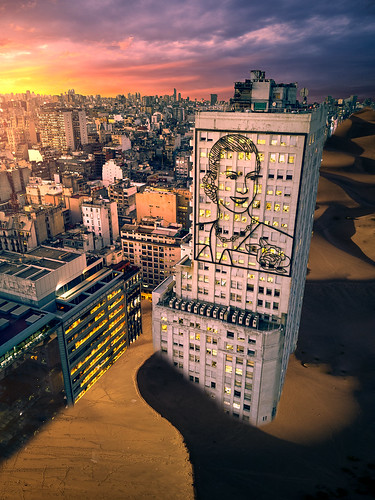 There was an interesting article by Simon Nixon in The Times last Thursday:
Then there is the government's cavalier approach to the institutions of state. These are vital to providing the stability valued by investors. Indeed, that is what marks Britain out as dierent to Argentina. Yet under Mr Johnson's premiership, this government has already illegally tried to suspend parliament, threatened to renege on an international treaty that it had signed months earlier and is threatening to break international law. It has attacked lawyers and judges and resisted legitimate scrutiny. This year Moody's downgraded Britain's credit rating in part over concerns about its governance.
Britain is far from Argentina. But then Argentina was not always Argentina. One hundred years ago, it was one of the richest countries in the world, but decades of populist governments, starting with that of Juan Peron and his wife Eva, destroyed investor trust. It is a warning to guard against complacency.
This is by no means the first time commentators have compared Brexit Britain with Argentina.
For instance, in this podcast released a year ago, they were wondering (after 4:40) whether Boris Johnson might be turning the Conservative Party into a Peronist one. (According to Wikipedia, the pillars of Peronism are social justice, economic independence and political sovereignty, and the ideology is described as both authoritarian and populist. Does this sound familiar [perhaps apart from the social justice bit]?)
And four years ago, I wrote a blog post here:
Perhaps things won't be that bad, but I'm starting to think the UK could go the way of Argentina, which over a hundred years fell from being on the same level as Germany or France, to a point where their GDP per capita is less than 30% of the USA's (see the adjacent graph).
The prize, however, goes to CassandraGarvan Walshe. Not only did he discuss it before anybody else (and before the Brexit referendum), he also did it better. He's a former National and International Security Policy Adviser to the Conservative Party, and in an ususually prophetic article in Conservative Home a week before the Brexit referendum, he wrote this:
Before the First World War, Argentina was the richest country in the world. It had successful export industries, took in huge quantities of foreign investment (mainly from Britain) and attracted hundreds of thousands of immigrants from Europe. Buenos Aires boasted both a Harrods and a Hurlingham club.
Yet by the 1980s Argentina had come close to becoming failed state. Its military dictatorship murdered as many as 30,000 people in a dirty war, and lashed out at its old British ally by invading the Falkland islands. Defeat doomed the junta, but the democracy that followed struggled from economic slump to currency crisis to default, and back again.
Argentina suffers from a chronic political virus: with only brief interludes, it has since the 1930s been run by populists who maintain that the system is run for the elite, and against the people; that any experts are the system's hired clerks, their wisdom corrupted by money; that the plain anger of the ordinary man isn't just right, but righteous. […]

If you listen to the Leave campaign, Britain in 2016 is like Argentina in 1935. An elite runs the country at the expense of the people: rigging markets in favour of big companies, and bringing in cheap labour to undercut the locals. So-called institutions are in its pay: the Bank of England and Institute for Fiscal Studies are alleged to be suborned husks. The common man, of course, is held in contempt: demonised as racist for worrying about immigration. […]

Before the campaign started, a case could have been made that Britain outside the EU would be governed better than it is at present, and while EU membership raised the level of, say, Italian, governance, it lowered ours. Freed from this European average, we could rediscover our Anglo-Saxon traditions: the rule of the common law, impartial public administration, and small government. But this campaign has shown that Leave are willing to trash that heritage, not restore it. In place of the representative government of English tradition they demand French-style implementation of the people's will. In place of parliamentary democracy, where crude majorities are tempered by centuries of constitutional convention and experience, they plan to overturn a system that their chief strategist, Dominic Cummings, thinks "got every major decision wrong since Bismarck."

As much as you might want a British Singapore, if you support Leave you'll get a British Argentina.
Of course the UK isn't necessarily destined to repeat Argentina's mistakes – it's quite possible that the Tories regain their senses soon or that Labour wins the next election and becomes the natural party of government – but it cannot be ruled out, either.
That creates a problem for Scotland. If the UK is sinking – not like a stone, but slowly and steadily – there'll never be a calm moment for a new independence referendum, and the UK government will always have other things to deal with. Effectively, Scotland could end up like the proverbial frog that gets boiled alive because the temperature increases slowly and steadily, so there's never an urgent need to jump out.
As I wrote four years ago in the blog post mentioned above:
Unless the majority of non-Brexiteers in the House of Commons get their act together and kick out this mad government before it's too late, Scotland has to get off this sinking ship fast or we'll get dragged down with it.
Will it be a British or an English Argentina?